Noticias / Amoruso L, Ibáñez A, Fonseca B, Gadea S, Sedeño L, Sigman M, García AM, Fraiman R, Fraiman D. Variability in functional brain networks predicts expertise during action observation. Neuroimage.2016
Amoruso L, Ibáñez A, Fonseca B, Gadea S, Sedeño L, Sigman M, García AM, Fraiman R, Fraiman D. Variability in functional brain networks predicts expertise during action observation. Neuroimage.2016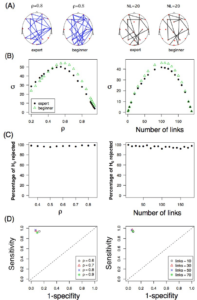 ---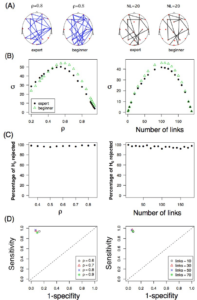 Amoruso L, Ibáñez A, Fonseca B, Gadea S, Sedeño L, Sigman M, García AM, Fraiman R, Fraiman D.
Variability in functional brain networks predicts expertise during action observation
La variabilidad de las redes cerebrales predice el nivel de experticia durante la observación de la acción
 La experticia produce cambios plásticos, pero poco se sabe acerca de dichos cambios a nivel de la organización de las redes cerebrales. En este estudio demostramos que los expertos bailarines de tango, cuando observan pasos de baile, activan redes cerebrales menos variables y con arquitecturas más robustas que las de los principiantes. Este estudio demuestra que la organización y variabilidad de redes cerebrales durante la observación de la acción es un indicador muy sensible de los efectos de largo plazo del entrenamiento.
The expertise produces plastic changes, but little is known about such changes in the organization of brain networks. In this study we show that expert tango dancers, when they observe dance steps, activate less variable brain networks and with more robust architectures than those of beginners. This study shows that the organization and variability of brain networks during observation of action is a very sensitive indicator of the long-term effects of training.
Para acceder al Link, por favor haga CLICK AQUÍ