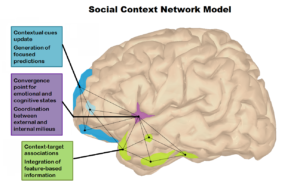 Baez S, García AM, Ibáñez A.
THE SOCIAL CONTEXT NETWORK MODEL IN PSYCHIATRIC AND NEUROLOGICAL DISEASES
(LA RED CEREBRAL DE CONTEXTO SOCIAL 
EN CUADROS PSIQUIÁTRICOS Y NEUROLÓGICOS)
Curr Top Behav Neurosci. 2016, In press. 
¿Como hacemos las personas para usar la información contextual y la experiencia a fines de anticipar los significados sociales de las interacciones? En este trabajamos mostramos como esta habilidad depende de una red fronto-temporo-insular y puede ser entendida a través del llamado Social Context Network Model (SCNM). Luego revelamos como el SCNM puede ser útil para la comprensión de los déficits de cognición social en múltiples patológicas psiquiátricas y neurológicas.

How do people use contextual information and experience to anticipate the social meanings of interactions? In this work we show how this ability depends on a fronto-temporo-insular network and can be understood through the so-called Social Context Network Model (SCNM). We then revealed how SCNM may be useful for understanding the deficits of social cognition in multiple pathological psychiatric and neurological disorders.
Para acceder al Link, por favor haga CLICK AQUÍ