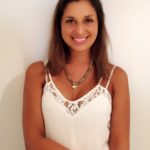 Main areas of interest
Psychology, Sports Psychology, Neurosciences, Cognitive Neurosciences, Neuropsychology and Interoception.
 Biodata
Florencia Alifano has a degree in Psychology from the Universidad Católica de Santa Fe (Argentina). She also works as a technician in the high density Electroencephalography unit of the laboratory, researcher and psychologist of Ineco Alto Rendimiento.
As a student, she served as assistant student for the Chair of Sports Psychology at the Catholic University of Santa Fe and obtained a research grant on that subject from the Department of Science and Technology of the same university. Currently, his work in the Laboratory of Experimental Psychology and Neuroscience focuses on projects aimed at studying social cognition and linguistic processes in high performance athletes. He obtained his undergraduate degree by presenting a thesis focused on research on "Negative emotions, psychological well-being and interoception in professional and amateur swimmers" under the supervision of Prof. Adrián Yoris.