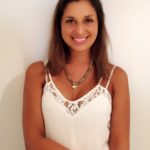 Florencia Alifano is pursuing her Ph.D. in Psychology at Universidad Católica de Santa Fe (Argentina). Florencia also works as a technicianat the high-density electroencephalography unit.
As a student, she worked as a teaching assistant for the chair of Sports Psychology at Universidad Católica de Santa Fe, and was awarded a scholarship for research on that topic by the Department of Science and Technology of the same university. Currently, her research work at the Laboratory of Experimental Psychology and Neuroscience is focused on the project "Negative emotions, psychological wellbeing, and interoception in professional and amateur swimmers", under the supervision of Prof. AdriánYoris. She is also developing a second project aimed to study social cognition and linguistic processes in high performance athletes.
Main areas of interest: cognitive neuroscience, neuropsychology, sports psychology, interoception.