Noticias / Abrevaya S, Sedeño L, Fitipaldi S, Pineda D, Lopera F, Buritica O, Villegas A, Bustamante C, Gomez D, Trujillo N, Pautassi R, Ibáñez A, García AM.The road less traveled: Alternative pathways for action-verb processing in Parkinson's disease. J Alzheimers Dis.2016
Abrevaya S, Sedeño L, Fitipaldi S, Pineda D, Lopera F, Buritica O, Villegas A, Bustamante C, Gomez D, Trujillo N, Pautassi R, Ibáñez A, García AM.The road less traveled: Alternative pathways for action-verb processing in Parkinson's disease. J Alzheimers Dis.2016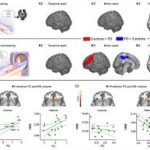 ---
Abrevaya S, Sedeño L, Fitipaldi S, Pineda D, Lopera F, Buritica O, Villegas A, Bustamante C, Gomez D, Trujillo N, Pautassi R, Ibáñez A, García AM.
The road less traveled: Alternative pathways for action-verb processing in Parkinson's disease
Siempre hay otro camino: vías alternativas para el procesamiento de verbos de acción en la enfermedad de Parkinson
J Alzheimers Dis. 2016 Nov 9. 
En este estudio de resonancia magnética funcional exploramos el procesamiento verbos de acción en pacientes con enfermedad de Parkinson. Demostramos por primera vez que los pacientes, a diferencia de los sujetos control, procesan dichos verbos mediante circuitos alternativos (no motores), de modo proporcional a la atrofia de los ganglios basales. Este nuevo hallazgo arroja luz sobre la organización de los sistemas lingüísticos y su reconfiguración ante el daño de sustratos críticos.
In this functional magnetic resonance study we explored processing action verbs in patients with Parkinson's disease. We demonstrate for the first time that patients, unlike control subjects, process said verbs through alternative circuits (non-motors), in a manner proportional to atrophy of the basal ganglia. This new finding throws light on the organization of linguistic systems and their reconfiguration to the damage of critical substrates.
Para acceder al Link, por favor haga CLICK AQUÍ