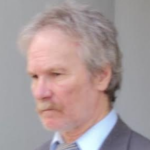 He studied medicine at the Faculty of Medicine, UBA. Being student entrance to the assistantship and in the 1st Academic Unit of the Department of Cell Biology, Histology, Embryology and Genetics of said faculty. At the same time, he began his research, as an assistant, in the Electronic Microscopy laboratory of the Institute of Cellular Biology and Neurosciences (IBCN) associated with this Department.
He became a Doctor with a Diploma of Honor. Upon graduation he was appointed by Prof. Dr. E. De Robertis, in charge of the direction of the course of Embryology of said Department.
He undertook his PhD thesis - under the direction of Prof. Dr. A. Pellegrino de Iraldi - on phenomena of regeneration of nervous system in a simple experimental model. His thesis deserved the maximum qualification and received the Prize for the Best Thesis of the year in the Area of Basic Research.
In the IBCN he created the Laboratory of Developmental Neurobiology which, at present, continues under the direction of those who were his disciples. Later he was Director of the Department of Bio-Structural Sciences at Favaloro University, where he created the Interdisciplinary Group of Theoretical Biology with members of several national faculties. This group is dedicated to the analysis of dynamics of cellular behaviors involved in the development of the central nervous system. With the creation of the Institute of Cognitive and Translational Neuroscience (INCyT) within this University, it became part of the research staff of this Institute.
In the area of teaching, he held all positions in the UBA teaching ladder. Created the School of Training and Training of Embryology teachers that continues to the present. In addition to his teaching experience at the UBA, he was repeatedly invited to organize, program and train teaching institutions for the subjects Cellular and Molecular Biology, Histology, Embryology and Genetics in several Universities -Del Nordeste, Comahue, Favaloro and Others.
He has held various management positions (Director of Department, Member of Departmental Councils, Academic Councils, Superior Councils).