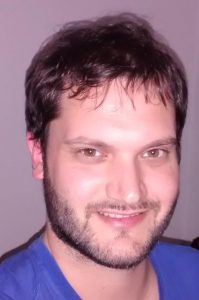 Perfil de Research Gate: http://bit.ly/26kCxvu
Main research interests
Dynamical systems, brain connectivity, networks and computer simulations.
Biodata
Martin Dottori reached his undergraduate degree at Physics sciences. He obtained a doctoral fellowship from the National Scientific and Technical Research Council and actually is developing their doctoral studies at the Institute of Cognitive and Translational Neuroscience (Argentina). Their interest area is the cerebral connectivity and the developing of connectivity metrics to predict neurocognitive profiles and to discriminate groups of patients. He also works as an assistant teacher at General Physics at the National University of La Plata (Argentina).