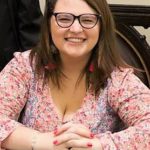 María Celeste Berardo has been studying Psychology in the Faculty of Human Sciences and Behavior of the Favaloro University since 2015.
She became a lawyer in 2013, at the University of Sciences of Business and Social Sciences (UCES), specialized in health law.
From the year 2014 she works as a therapeutic partner, orienting her work towards cognitive stimulation. She collaborated in workshops of trades of patients diagnosed with ASD. She is currently a volunteer in cognitive stimulation workshops for patients diagnosed with some dementia.
She has done several courses on memory and language, as well as in Lengua de Señas Argentina LSA. At the moment she participates in the researches carried out by the Laboratory of Investigations in Language (LILEN) of the INECO Foundation.
Her areas of interest include language, emotions and memory, focused on dementia, and patients who had suffered stroke, skull trauma; As well as experimental forensic psychology and psychooncology.