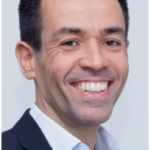 He graduated with a degree in psychology at the University of Buenos Aires and made his academic doctorate in medicine at the University Favaloro. He currently serves as Director of the Department of Cognitive Psychotherapy INECO. His areas of clinical expertise focus on the treatment of mood disorders and attention deficit hyperactivity disorder in adults.
In academia is Dean of the Faculty of Humanities and Behavioral Favaloro University, Director in charge of the School of Psychology degree, Professor, Department of Psychology and Director of the "Graduate Psychopathology and Cognitive Psychotherapy: Clinical and Treatment "at the same university. In the field of research, co-directs the Laboratory of psychopathological INECO Research Foundation and is author of several scientific papers published in international journals.
His current research interests are directed to: 1) the study of motivational, emotional and affective processes in ADHD in adulthood, 2) implementation and substantiation of psychological treatments based on evidence in major psychiatric disorders, 3) the extent of cognitive behavioral treatment of neuropsychiatric and neurological syndromes, and 4) therapy applying neuroscientific concepts and models in the psychotherapeutic field.
Contact: ftorrente@ineco.org.ar