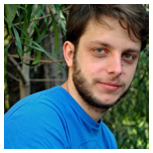 Federico Soriano is a professor in Letters by the University of Buenos Aires, with specialization in Psycholinguistics and Neurolinguistics. He held several postgraduate courses in the area of neurosciences at Favaloro University and has served as a teacher at various levels of education in Argentina.
He is currently a teacher at the Academic Center for Language Training and tutor of the Specialization in Initial Literacy of the Our School program, under the Ministry of Education.
His academic activity is related to several areas of Linguistics and Cognitive Sciences. He participated in conferences and has published articles in collaboration with other members of the Laboratory of Research in Language (LILEN).
He has recently joined the Laboratory and is working on the translation and adaptation into Spanish of the SydBat (Sydney Language Battery), a battery for the diagnosis of progressive primary aphasias.