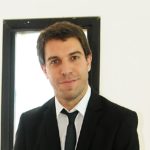 Dr. Adolfo M. García specializes in the neuroscience of language. He is the Scientific Director of the Laboratory of Experimental Psychology and Neuroscience, at the Institute of Cognitive and Translational Neuroscience (Argentina). He is also Assistant Researcher at the National Scientific and Technical Research Council (Argentina); Adjunct Professor of Neurolinguistics at the Faculty of Elementary and Special Education (National University of Cuyo, Argentina); and member of the TREC (Translation, Research, Empiricism, Cognition) Network, based on the Autonomous University of Barcelona (Spain). He is also associate editor for the Journal of World Languages and a reviewer for dozens of leading journals in neuroscience, neurolinguistics, and linguistics.
Dr. García has received training in neurolinguistics at New York University and Rice University (USA), and he has disseminated his work in multiple scientific and academic events worldwide. As a professor, he has taught undergraduate, graduate, and professional development courses in Argentina, Chile, Colombia, USA, Germany, and China. From 2011 through 2014 he served as Adjunct Professor of Translation Studies at the National University of Córdoba (Argentina). He has also been a Visiting Professor at Macquarie University (Australia), Universidad del Valle (Colombia), Universidad de Antioquia (Colombia), Pontifica Universidad Católica de Valparaíso (Chile), and Johannes Gutenberg University (Germany). He has acted a thesis advisor to undergraduate and graduate students in Argentina and Europe.
He has more than 80 publications, including books, chapters and articles in leading journals, such as Journal of Neurolinguistics, Journal of the International Neurospychological Society, Cortex, Cognition, Frontiers in Psychology, Translational Neuroscience, Target, Meta, Translation and Interpreting Studies, and Linguistics and the Human Sciences. His books include Traductología y neurocognición (National University of Córdoba, 2012); Lenguaje, cognición y cerebro (Argentine Linguistics Society, 2012); Qué son las neurociencias, co-authored by Agustín Ibáñez (Paidós, 2015); and Mente bilingüe (Comunicarte, 2016).
In 2013 he received the Most Outstanding Paper Award from the Linguistic Association of Canada and the United States. That same year he was distinguished by the Ibero-American Neuroeducation Society. In 2015, he was awarded the Young Investigator Prize, granted by the Argentine Association of Behavioral Science.
Perfil de Loop: http://bit.ly/1zj2VCF
Perfil de Research Gate: http://bit.ly/1DRf3QW
Perfil de Academia.edu: http://bit.ly/1tQvQMU
Perfil de Kudos: http://bit.ly/1c1zgJE
Canal de Youtube: http://bit.ly/1qgykIY